Let's make a decorational tree quick

It is was Christmas time again and I needed a present for my relatives. We don't gift each other much but I was thinking a small, self made thing to give is okay.
Since I'm currently experimenting with making o-ring based joints for laser cut HDF boards I thought that this would make a nice occasion to put my findings to use.
Long story short. This design can be cut out of (exactly) 3 mm wide HDF board. It seems ordinary plywood does not work. The surface is not as smooth as HDF and it may be a little wider than 3 mm or wrap with (or without) humidity.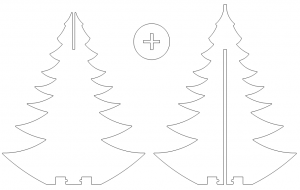 Click here to download the files: PDF & DXF
To assemble the tree simply slide both tree parts in to each other and put the foot onto the bottom of the tree (where the stem in a tree would be) and secure it with an o-ring ( size 2.5 x 11 mm) to hold everything in place. This is the exact size garden hose couplings like Gardena or Hozelock use. You get them for cheap in every home improvement/DIY store)